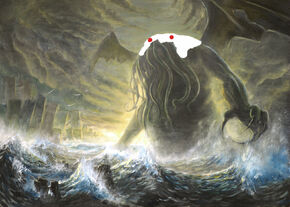 Slenderthulu or to be known President Slenderthulu is the ohso evil leader of the badguys in the blogs he was President Slender and than he combined into with Cthulhu with a badevil ritual and then was a sooper evil bad guys who fites reely hard and is sooper strong. he fote megamegacosmicrake in the final batel and lost of the batel when megamegacosmicrake riped the Cthulhu out of him threw it i n a black hole thats in space the only thing to contain his power and made him back too be President Slender he was vary strong and mite have won if this megamegacosmicrake hadnet taken Slenderthulu after the final batel and after the final battel hes resting and will recover as a other evil Pesident Slender...
"PREPARE FOR ULTIMATE DEATH AND POWERBATTLING OF YOU BY ME!"

"PREPARE FOR THE ANNILATION OF YOU ALL BY ME!"